Templer's Park Day Trip from Kuala Lumpur
Asia » Malaysia » Central Region » Kuala Lumpur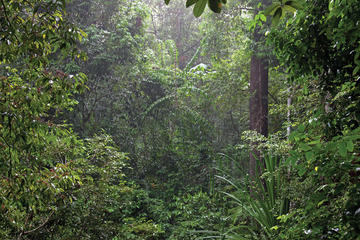 Duration: 3 hours 30 minutes
Departs: Kuala Lumpur, Malaysia
Price from USD 75.00
Book Now
Enjoy nature at its finest with this wonderful tour to Templer's Park. Step into a world of peace and serenity as you trek through the beautiful jungle surroundings. Let the soothing forest sounds take you away from the worries of the world. Take in the sight of the gorgeous waterfall which is located 25 km north of Kuala Lumpur. Be sure to bring a good camera so you can capture the beauty forever.
This is the perfect tour for people looking to bask in the wonders of nature and get away from the noise of the city.

Your day will begin with a hotel pick up at 9:15am. From there you will be taken to the inspiring Templer's Park.

A Tropical paradise, Templer's Park is a great spot for bird watching and jungle trekking. Not only does it offer a picturesque setting with a towering attraction near its edge, namely the million-year-old limestone hill Bukit Takun, Templer's Park is also a convenient escape from the burdens of urban life. The Kanching Waterfalls, also known as the Templer's Park Falls are found here.

In addition to the jungle trails and picnic spots, there are also cool, clear pools for you to take a dip. Templer's Park offers peace, quiet and relaxation with its fresh air and breathtaking beauty.

You will have 3.5 hours to enjoy the paradise that is Templer's Park and once time is up you will be taken back to your hotel.
« All Activities