Rafflesia Flower and Gunung Gading National Park Safari from Kuching
Asia » Malaysia » Sabah and Sarawak » Sarawak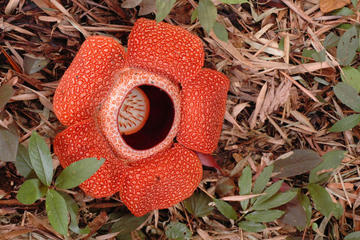 Duration: 8 hours 30 minutes
Departs: Kuching, Sarawak
Price from USD 134.66
Book Now
The Rafflesia flower is the world's largest and is predominently found in Malaysia and more specifically located in the Gunung Gading National Park, a 2-3 hour drive from Kuching. Take a walk into the National Park on one of the well marked walking trails through the rainforest in search of this rare and spectacular Rafflesia flower.
Gunung Gading National Park is a 2-3 hour drive from Kuching and is Sarawak's main conservation area for the Rafflesia, the world's largest flower, also the offical state flower of Sabah.
The Rafflesia flowers can grow up to 100 centimeters and weigh up to 10 kilograms. The Rafflesia's are noted to give off a vile rotten meat smell to attract insects.
The Gunung Gading National Park also offers a number of attractive walking trails, leading through primary rainforest to beautiful jungle waterfalls. A packed lunch is included.

Note : Blooming Rafflesia flowers may be a fair distance from park headquarters, so visitors should be prepared to walk for some time in hot humid conditions.
« All Activities