Private Tour: Langkawi Rainforest Trekking Adventure
Asia » Malaysia » Northern Region » Langkawi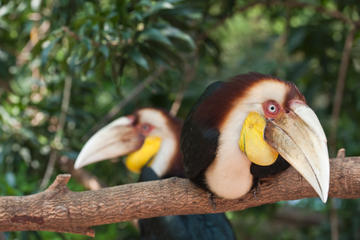 Duration: 3 hours
Departs: Langkawi, Malaysia
Price from USD 84.60
Book Now
Explore the verdant rainforest of Pulau Langkawi on this half-day private jungle trekking tour! Langkawi is rich in biodiversity and offers a plethora of unique flora and, fauna and wildlife. This moderate trekking tour of two to three hours is suitable for most ages. Venture deep into the fascinating wilderness of this ecological gem!
Langkawi covers only 185 square miles (480 square km), but close to 65% is covered by rainforest. For a small island, Langkawi is rich in biodiversity, boasting over 200 species of birds and hundreds of species of plants.

On your comfortable trek through the forest, you'll be greeted by a morning chorus of birds and monkeys. If you visit during the afternoon, you'll have a chance of spotting flying lemurs or pygmy squirrels. Your guide will point out facts and features of the tropical forest, and lead you from the foot of the jungle to the top of the summit.

Don't miss out on this thrilling jungle adventure!
« All Activities