Private Tour: Gaya Island Hike and Zipline Adventure from Kota Kinabalu
Asia » Malaysia » Sabah and Sarawak » Sabah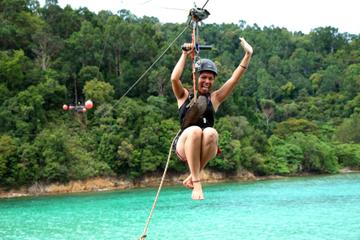 Duration: 5 hours
Departs: Kota Kinabalu, Sabah
Price from USD 62.50
Book Now
Go hiking and ziplining through Tunku Abdul Rahman National Park on this private eco-adventure from Kota Kinabalu. Boat to Pulau Gaya (Gaya Island) and trek through a pristine tropical rainforest on a guided hike. Then soar at high speeds on a zipline over the jungle and across a small inlet to Pulau Sapi (Sapi Island), where serene beaches wait to be discovered. Round-trip hotel transport is included on this half-day tour.
After pickup from your hotel in Kota Kinabalu, your guide will whisk you away by private minivan to the Jesselton jetty for a 20-minute boat ride to Pulau Gaya (Gaya Island), the largest of the five islands that make up Tunku Abdul Rahman National Park.
When you reach
Gaya
, embark on 1.5-hour hike
through the dense tropical jungle. Trek
along a 1-mile (1.6-km) trail with your guide, gazing up at 100-foot-tall (30-meter) trees, l
istening for the trill of hornbills,
and looking for native flora, fauna and wildlife. Ratan plants, bamboo trees and wild mushrooms frame the footpath as lizards scamper by.
After your hike, gear up for an exciting zipline ride! Receive a safety briefing, put on your equipment and take off across 820 feet (250 meters) of zipline cable, soaring at blazing speeds of up to 40 mph (65 kph). Soak up aerial views of Tunku Abdul Rahman National Park and
cross the calm
328-foot (100-meter) channel
dividing the Gaya and Sapi islands, looking down on
cerulean waters dotted by forested isles.
Zip down to a safe landing on Sapi and have free time to
relax, soak up the scenery and purchase lunch in town on your own. At the end of your eco-adventure, board the boat and cruise back to the mainland, where you'll be transferred by private minivan back to your hotel.
« All Activities