Private Tour: Elephant Orphanage Sanctuary Day Tour from Kuala Lumpur
Asia » Malaysia » Central Region » Kuala Lumpur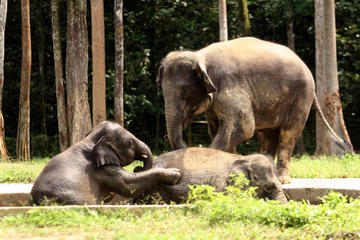 (4.5)
Duration: 8 hours
Departs: Kuala Lumpur, Malaysia
Price from USD 190.65
Book Now
Enjoy a private tour of the Kuala Gandah Elephant Sanctuary (also called the Elephant Orphanage Sanctuary), an elephant conservation center managed by the Malaysian Wildlife Society. Drive by private vehicle to a beautiful tropical rainforest, located just 1.5 hours from Kuala Lumpur, stopping at Deerland Park along the way. With your expert, friendly guide, you'll discover the important work the elephant sanctuary does in protecting and safeguarding these orphaned elephants. You may even have the opportunity to interact with cute and clever baby elephants – truly a never-to-be forgotten experience!
After hotel pickup by private vehicle in Kuala Lumpur, visit Deerland Park, where you'll see Indonesian deer, and admire views of Malaysia's landscape dotted with plantations. Make another stop at an aboriginal settlement to learn about the local lifestyle of the nomads who live here, from building fire to hunting for their next meal.
Venture through a tropical rainforest and arrive at the Kuala Gandah Elephant Sanctuary (also known as the Elephant Orphanage Sanctuary), just 1.5 hours from Kuala Lumpur. Before you begin your private tour of this elephant conservation center, managed by the Malaysian Wildlife Society, view an introductory video about the sanctuary and learn about the ambitious rehabilitation efforts to save the rescued Asian elephants.
The Elephant Orphanage Sanctuary creates a natural environment for the elephants and nurtures them back to health before releasing them back into the wild. Observe the daily activities of the elephants as they roam the camp. Your private guide will point out the specially trained team of wildlife experts as they feed and bathe the beautiful creatures.
At midday, enjoy a delectable Malaysian lunch, either packed for you or eaten at a popular local restaurant.
If you've selected an afternoon tour, and if river conditions allow, you'll have
the amazing opportunity to interact with baby elephants. Get up close to these fascinating animals as you feed and bathe them -- a unique and insightful experience! (Please note: B
aby elephant bathing is an optional activity that must be purchased onsite at the sanctuary. Availability is subject to change, as this activity does not operate when the water level of the river is low.)
After your tour, you'll be taken back to your hotel by private vehicle with many memories and photos to share.
« All Activities