Penang National Park Half-Day Trek
Asia » Malaysia » Northern Region » Penang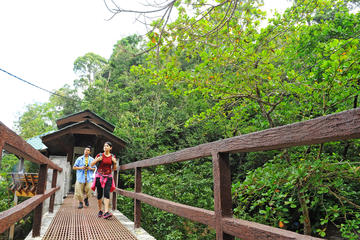 Duration: 4 hours
Departs: Penang, Malaysia
Price from USD 73.33
Book Now
Explore the hidden natural beauty and habitats of Malaysia's tropical rainforest at Penang National Park on this half-day adventure. Trek an easy path around the park with an informative guide and discover various trails leading to lush forests housing tropical birds, monkeys and monitor lizards. Dive into the cool water of some of the best beaches on Penang Island, enjoy a box lunch and relax by the pristine Monkey Beach before a return boat ride. Round-trip hotel transport from Penang is included.
Upon morning pickup from your hotel in Penang, escape the urban city life and explore the natural landscape of Penang National Park. Located on the northwestern tip of Penang Island, it is the smallest national park in the world and measures 10 square miles (26 square km). This park is unique in that it contains a collection of habitats not found in other national parks in Malaysia, such as wetlands, mangroves, coral reefs and turtle-nesting beaches. Penang National Park also boasts eight of the best beaches on Penang Island.
Begin your half-day trip with a visit to the national park's Interactive Center and Gallery for a brief overview of the park. From here, follow your guide on an hour-long trek along an easy rainforest trail from Telok Bahang, a sleepy fishing village, to the turquoise waters of Telok Tukun Beach.
Experience an 820-foot (250-meter) canopy walkway, which hovers 49 feet (15 meters) above the ground to allow visitors to see the lush, tropical forest layers from a unique angle. Your guide shares information about the area's flora and fauna, including monitor lizards. If you'd like, take a dip in the cool, freshwater pool at the tip of the Tukun River.
Then enjoy a box lunch of sandwiches and fruit as you relax on Monkey Beach, where you might see the namesake monkeys plus green turtles, flying squirrels and flying lemurs. Relax on the return with a 20-minute boat trip in search of myriad species of migratory birds, frequently sighted in the mangrove swamps.
End your tour with the return drive to Penang and drop-off at your hotel.
« All Activities