PADI Scuba Diving in Tunku Abdul Rahman Marine Park from Kota Kinabalu
Asia » Malaysia » Sabah and Sarawak » Sabah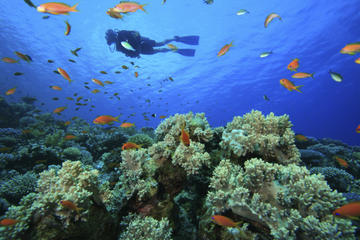 Duration: 6 hrs
Departs: Sabah, Malaysia
Price from USD 141.25
Book Now
Tunku Abdul Rahman National Park (TARP), located off the coast of Sabah, is an ideal place for beginning scuba divers to learn the basics and explore ocean waters with a PADI-certified instructor. Enjoy a practice session from the beach in the morning and take a second dive from a speedboat in the afternoon over a stunning coral reef. There's a maximum of four divers per guide, and all diving equipment is included. Rest easy on round-trip transport from Kota Kinabalu, dreaming of all the colorful fish you get to see on this 6-hour trip that's aimed at non-certified and newly qualified divers.
After a hotel pickup from Kota Kinabalu, travel to the Jesselton Point ferry terminal. From here, it's about a 20-minute speedboat ride to Tunku Abdul Rahman National Park (TARP), home to the five pristine protected islands of Pulau Manukan, Pulau Gaya, Pulau Sapi, Pulau Mamutik and Pulau Sulug.

It's also where you'll discover some of the world's best scuba diving, especially for beginners. Before making two dives, receive a step-by-step introduction to scuba diving, and learn how to suit up and use your diving equipment from your PADI-certified instructor. No prior experience is necessary and you can expect to receive personalized attention. Each instructor only works with a total of four divers at any given time. If you are more advanced and want to join, no problem! No challenging diving takes place during the experience, but divers of all abilities are sure to find the park stunning to explore.

After a briefing, follow your dive guide into chest-high water in the ocean to learn emergency procedures and basic scuba diving skills such as how to breathe, equalize the air spaces in your body, and clear your mask.
Following an overview of the skills you've learned, it's time for the first dive. Enter from the beach to swim out to a training reef no deeper than 39 feet (12 meters). There is less coral but plenty of amazing fish to see during this practice session, which lasts 30-45 minutes. And don't fret about being in unfamiliar waters — your instructor remains close at all times.

Back on shore, hop aboard the speedboat for a ride to one of the islands where you can purchase lunch and rest. (Bottled water is provided on the boat.) After lunch, take your afternoon dive from the boat, descending to a maximum depth of 39 feet (12 meters).

Over the course of this 45-minute dive, with little or no current, take in the topography of the site — reef made of soft and hard corals where nudibranchs, pufferfish, lionfish, stingrays, sea stars, cuttlefish and moray eels are among the macro marine life you might see. Search for schools of barracuda and snapper, all seven species of clownfish, and sea turtles as you kick around the underwater paradise.
Once you've completed both dives, you're returned to the jetty and dropped off at your selected hotel in the afternoon.
Please note: A minimum of 2 people per booking is required.
« All Activities