Mangrove Kayaking Tour from Langkawi
Asia » Malaysia » Northern Region » Langkawi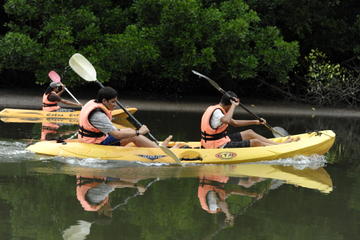 Duration: 4 hours
Departs: Langkawi, Malaysia
Price from USD 81.01
Book Now
Join us on adventure through the twist and turns of the mangrove river maze and enjoy a refreshing dip in a jungle stream. This tour includes kayaking along mangrove rivers and lunch at a family house.
South East Asia is home to the highest diversity of mangroves species in the world and the mangroves around Langkawi are no different. Naturalist guide explains the mangrove ecology and its benefits to man and wildlife.

We often see spectacular kingfishers, sea eagles, kites, plovers, herons, fiddler crabs and mud skippers. We pass a local fishing station where local fishermen put to sea or return after a day out. Depending on the tidal conditions we begin at the coast and head upriver or begin upriver and head for the coast so we kayak with the flow of tidal currents.

The kayak journey lasts about two and a half hours, followed by a short drive and easy 500 meter hike to a secluded rainforest trail for a swim in a cool jungle stream. We end the day with delicious lunch before returning to the hotel.
« All Activities