Mangrove Forest Kayaking Tour from Langkawi
Asia » Malaysia » Northern Region » Langkawi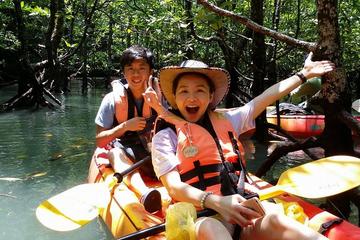 Duration: 4 hours
Departs: Langkawi, Malaysia
Price from USD 62.50
Book Now
Join this guided half-day Kayaking adventure in the beautiful Mangrove Forest. Start the day off with a visit to the fish farm and enjoy a fish feeding show before beginning your kayaking adventure where you will be able to connect with nature and wildlife. After this enjoy a local lunch included.



Your day will begin with a pickup from your hotel lobby. From there you will be taken to Kilim jetty for a boat ride to the bat cave.

After that, you will proceed to the fish farm and enjoy the opportunity to watch a fish feeding show. After this your kayaking adventure will begin. You will observe many exotic plants and animal species that have adapted ingenious ways to thrive in a habitat dictated by the ebb and flow of the ocean tides. We will get to see sea eagles and kites, kingfishers, herons, mudskippers, fiddler crabs and monitor lizards. You will also go to the bat cave to observe the insect-eating bat that residing in it.

After about an hour and a half of this truly informative kayaking adventure you will return to the fish farm for a delicious locally prepared lunch and refreshments.

This will mark the end of the day and you will be taken back to your hotel lobby safely.
« All Activities