Langkawi Underwater World and Crocodile Farm Tour
Asia » Malaysia » Northern Region » Langkawi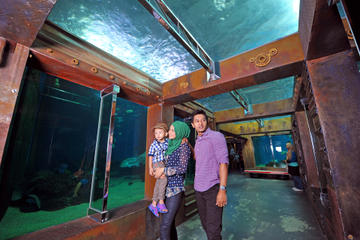 (3.0)
Duration: 3 hours
Departs: Langkawi, Malaysia
Price from USD 72.71
Book Now
Spend a family-friendly morning or afternoon at two of Langkawi's top wildlife attractions — the Crocodile Farm and Underwater World. On this 3-hour tour, watch crocodiles jump for food, learn about the biggest crocs in the world, walk through a large tunnel surrounded by marine life, see tropical birds and fish, and watch penguins at play. Travel to and from these sites in the comfort of an air-conditioned vehicle.
After hotel pickup, head to the Langkawi Crocodile Farm, a 20-acre (8-hectare) site that's home to more than 1,000 crocodiles, one of the largest groupings of crocodiles in one place in the world.

Explore the various ponds — breeding pond, jumping pond, periodical pond and show pond — that imitate the crocodiles' natural habitats, and watch them feed in a controlled environment. Marvel at crocs of all sizes, from babies to record-breakers.

Next, visit your second wildlife attraction of the day, Underwater World Langkawi. This aquarium — the largest in Malaysia — is home to freshwater and saltwater fish from around the planet. Walk through the 50-foot-long (15-meter) underwater tunnel to see colorful fish all around you, and check out the koi pond and seashell display.

As you explore the aquarium's three ecosystems — tropical rainforest, temperate climate and sub-Antarctic — you'll see a myriad of marine life, including knifefish, pacu, tropical birds, flamingos, fur seals, penguins, catfish and stingrays.

When you leave Underwater World, your tour ends with hotel drop-off.
« All Activities