Langkawi Sailing and Island Hopping Adventure
Asia » Malaysia » Northern Region » Langkawi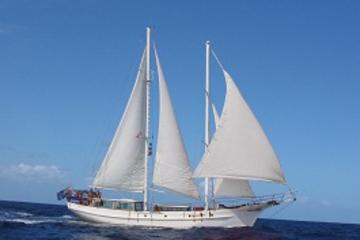 (5.0)
Duration: 7 hours
Departs: Langkawi, Malaysia
Price from USD 181.80
Book Now
During your time in Langkawi, sail off the coast from Kuala Perlis and see Langkawi's many outlying islands. Enjoy calm water sailing, relaxing on the beach and discovering Langkawi's diverse wildlife. On board, feast on a delicious barbecue lunch with free flow of beverages! This full day Langkawi cruise is the perfect way to explore the surrounding tropical islands.
Off the coast of Pulau Langkawi are a group of 104 islands accessible by boat. On this Langkawi cruise adventure, sail out and lie on the white sandy beaches and see the unique wildlife on the island of Pulau Dayang Bunting or Pulau Singa.

From Langkawi, embark a luxury crystal yacht for a 2-hour ride to a nearby island. Aboard the ship, admire the spectacular sights of the archipelago and the pristine turquoise waters. Enjoy a tasty barbecue lunch on board with a free flow of beer, wine, cocktails and soft drinks.

Arrive on one of the islands, and you'll have plenty of time to walk along the beach or see the beautiful natural wildlife. Discover the mangrove forests and keep your eyes out for monkeys, lizards and eagles. See the towering limestone mountains and wander through the tropical jungles. After an afternoon of island exploration, hop on board your luxury cruise boat and return back to Pulau Langkawi.

This trip is the best way to see all that Langkawi has to offer!
« All Activities