Kuala Selangor Tour from Kuala Lumpur with Fireflies Boat Ride and Seafood Dinner
Asia » Malaysia » Central Region » Kuala Lumpur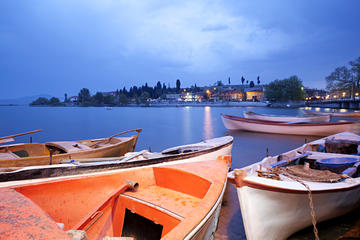 (4.0)
Duration: 8 hours
Departs: Kuala Lumpur, Malaysia
Price from USD 67.50
Book Now
Escape busy Kuala Lumpur for a night and get closer to Malaysia's nature with a visit to Kuala Selangor. Learn about this city's interesting history on a tour of a royal burial ground and an ancient fort, and enjoy a seafood dinner in a local fishing village. Your highlight will surely be your evening boat ride through mangrove forests; as night falls, you'll encounter thousands of twinkling fireflies!
You'll be picked up from your Kuala Lumpur hotel in the afternoon for a tranquil escape from the busy city. Your knowledgeable guide will take you 1 hour northeast to Kuala Selangor, the former royal capital of the state of Selangor and home to Kampung Kuantan, a quiet village housing one of the world's largest firefly colonies.

When you arrive, head to Kota Melawati (formerly known as Fort Altingsburg) located on Bukit Melawati, a hill at the mouth of the Selangor River. Explore the ruins of this old fort and see cannons and other artifacts from the early 1900s that overlook the expansive wetlands at the base of the hill.

Here, you'll also see the Royal Mausoleum -- a royal burial ground containing the graves of the first three Sultans of Selangor -- as well as the legendary 100 staircase, which was created as a means to climb up Selangor Hill but is also a fabled execution block.

Head to Kuala Selangor Nature Park at the foot of Bukit Melawati, where your guide will help point out migratory birds. If you're lucky, you may spot silvered-leaf monkeys and rare species of bird and butterflies native to this region.

At dusk, proceed to a nearby fishing village for a seafood dinner. You'll dine on the fresh catch of the day, giving you a taste of authentic Malaysian flavors.

After dinner, take a short drive to Kampung Kuantan to board a typical Malaysian wooden row boat. Relax and enjoy the lush scenery as your skilled oarsmen row upstream through mangroves. As you enter the darkness of the night, you'll witness one of nature's most incredible phenomena – tiny twinkling lights of thousands of fireflies swarming among the trees. This is truly a magical sight!

Your boat ride will last between 30-45 minutes, and you'll be driven back to your hotel afterward with an amazing story to tell.
« All Activities