Kiulu River White Water Rafting Tour from Kota Kinabalu including Lunch
Asia » Malaysia » Sabah and Sarawak » Sabah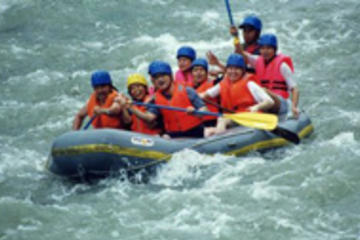 (3.0)
Duration: 6 hours
Departs: Kota Kinabalu, Sabah
Price from USD 125.97
Book Now
Experience Kota Kinabalu's electrifying environment with this white water rafting tour. Whether you're a thrill-seeker or a newcomer to the sport, your 1- to 1.5-hour rafting tour along Kiulu River is sure to quench your thirst for adventure. Enjoy opportunities for body rafting down the water or just take a relaxing swim during the calm stretches between rapids. Top your exciting journey with a delicious BBQ lunch!
Your white water rafting adventure will begin with a pickup from your Kota Kinabalu hotel. Enjoy a beautiful and scenic one hour countryside drive past the rural town of Tamparuli to the hills of Kiulu. The journey there is along sealed road with the last section giving way to a village track winding through the undulating hills of Kiulu.
Arrive at the picturesque Kiulu River, where you will be given an exciting introduction to the joys of river rafting. The bamboo-fringed river provides for a pleasant respite from the tropical heat as the cool waters invigorate your senses. With headwaters from Mt Kinabalu, the river provides a Grade II to III experience, with deep pools punctuating the river rapids - all perfect for thrill-seekers wishing to experience body rafting and swimming!
After approximately 1 to 1.5 hours on the water, top off your adventure with a scrumptious BBQ lunch. Afterward, you will be dropped off back at your hotel.
« All Activities