Full-Day Sepilok Orangutan Center and Sandakan City
Asia » Malaysia » Sabah » Sandakan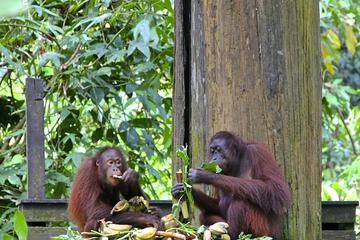 Duration: 10 hours
Departs: Sandakan, Malaysia
Price from USD 175.00
Book Now
Meet gentle, shy Orangutans in their natural habitat at a unique wildlife sanctuary on this delightful full-day tour.
The Orangutan Rehabilitation Center in Sandakan is located in the middle of the lush Sepilok Forest Reserve. The Center specializes in caring for baby orphan Orangutans and teaching them the survival skills they would have learned from their mothers under normal conditions.
The orangutans are not kept in captivity but rather come and go as they please while becoming used to living in the wild again after being held in captivity by various people.
You will have the chance to see these incredible Orangutans close up and to watch the fun of feeding time.
You will be greeted and picked up your Sandakan hotel (airport pickups can be arranged) and taken on a 30 minute drive to the Sepilok Orangutan Rehabilitation Center situated in the Kabili-Sepilok forest reserve. Visit the Nature Education Center and watch the video documentary show to learn about the rehabilitation of orphaned Orangutan before taking a boardwalk through the lowland rainforest to view the feeding platform. Trek ten minutes through the rainforest on wooden plank walks to witness the feeding of the Orangutans at approximately 10am.

After this, you will be transferred to the Bornean Sun Bear Conservation Center, where you will see the Sun Bear live in tropical regions with year-round available foods. During time of mating, the Sun Bear will show behavior like hugging, mock fighting and head bobbing with its mate.

Enjoy a delicious lunch before proceeding to the Sandakan City Tour. You will be shown various landmarks and historical points in the city that was once known as "Little Hong Kong".

Landmarks you will see include Puh Jih Syh Buddhist Temple which offers a panoramic view of Sandakan Bay situated on the hill top Tanah Merah and Sandakan Central Market which has the most amazing variety of fresh seafood and agricultural products. You will also take a visit to the English Tea House – a display of traditional British colonial architecture and uniform. The English tea house has a typically British menu including such favorites as fish and chips, shepherd's pie and cream teas. The concept of a colonial style English restaurant was an idea inspired by the famous Agnes Keith house next door.
« All Activities