Full-Day Kinabalu Park and Poring Hot Spring
Asia » Malaysia » Sabah » Kota Kinabalu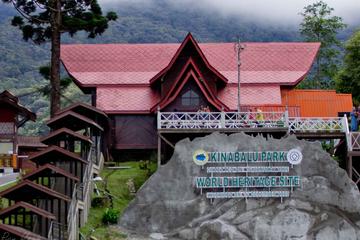 Duration: 10 hours
Departs: Kota Kinabalu, Malaysia
Price from USD 115.00
Book Now
This park is a UNESCO World Heritage site with incredible mega bio-diversity of flora and fauna, a heaven for nature enthusiasts.
On arrival, enjoy a guided nature trek along one of the many trails in the park before proceeding to the beautiful Poring Hot Springs which offers visitors the opportunity for an invigorating dip into its hot sulfur springs. For a closer look at nature, take the 41m high canopy walk which offers a spectacular view of the Borneo Rainforest flora and fauna.

Your day will begin with a pickup form your hotel lobby. You will then be taken to the UNESCO World Heritage Site Kinabalu Park. The journey will take about 1.5 hours, however it is sure to speed by as you enjoy the views of the passing villages and paddy fields along mountainous roads that wind along the Crocker Range. There will also be a brief stop along the way at Nabalu. Nabalu is a place where the local natives gather to sell local produce, home grown fruit and vegetables and handicraft souvenirs.

Upon arrival at Kinabalu Park, you will notice the change in air temperature. Enjoy the refreshing and cooling air as you proceed for a walk along the nature trails in the Botanical garden. If the day is clear, you may even have the majestic experience of spotting Mount Kinabalu.

After lunch, depart for another interesting wonder, the Poring Hot Spring. Approximately 47km from Kinabalu Park, Poring Hot Spring got its name from the tall bamboo plant that is abundant in that area. At this natural hot spring, there are Japanese baths where you can soak yourself and let the invigorating water stimulate your body. It is believed to have curative powers.

You can also try the Treetop Canopy Walk, where bridges are suspended at the top of the tropical jungle creating a thrilling and inspiring experience. Feel like you're flying as you stand 41m above ground level. A 20 minute hike is required to reach the Canopy Walk.

After the tour is complete you will be taken back to your hotel.
« All Activities