Fireflies and Kuala Selangor Tour Including Dinner
Asia » Malaysia » Federal Territory of Kuala Lumpur » Kuala Lumpur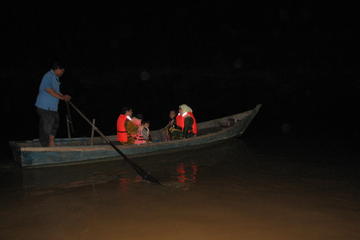 Duration: 8 hours
Departs: Kuala Lumpur, Malaysia
Price from USD 113.00
Book Now
We start our tour with a visit to the remains of a fort on Bukit Melawati before heading to the protected Taman Alam mangrove swamp. This is an ideal spot for bird-watching and witnessing other animals from the area. We then enjoy a a delicious seafood dinner, before taking a boat ride down the Kuala Selangor River to watch fire flies twinkling among the mangroves that line the banks of the river.
On arrival at Kuala Selangor, visit Kota Melawati formerly known as ' Fort Altinsburg' the execution block, royal mausoleum and colonial buildings. A bird sanctuary park at the foot of Bukit Melawati is an ideal place for bird watchers to watch migratory birds.

After a local fish dinner we proceed to Kampung Kuantan - the highlight of the tour. We row upstream in a small un-motorized boat (tongkang) in the quiet darkness to witness the blinking trees. This scintillating display of fireflies portrays an image of a flashing Christmas tree. The synchronized rhythmic flashing is produced by the thousands of fireflies found in the mangrove swamp of Kampung Kuantan. The skilled local oarsmen make this an unforgettable experience.
« All Activities