Elephant Orphanage Sanctuary and Aboriginal Settlement Tour from Kuala Lumpur
Asia » Malaysia » Central Region » Kuala Lumpur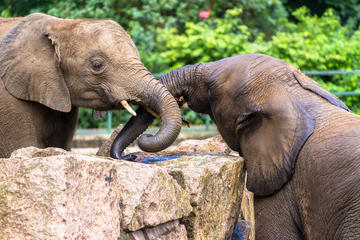 (4.5)
Duration: 8 hours
Departs: Kuala Lumpur, Malaysia
Price from USD 72.50
Book Now
Enjoy a unique cultural and wildlife experience on this tour from Kuala Lumpur. Witness the lifestyle of indigenous people at a Malaysian aboriginal settlement and learn about the important works of elephant conservation at the Elephant Orphanage Sanctuary (also known as the Kuala Gandah Elephant Sanctuary). On this coach tour, you'll be able to share this amazing experience with your fellow travelers and your knowledgeable guide.
After hotel pickup in Kuala Lumpur, you'll be driven by coach approximately 2 hours to the state of Pahang, where you'll stop to get a unique look at an aboriginal settlement to learn about the traditional culture in Malaysia. Gain insight into the local lifestyle of indigenous people as you witness their daily activities, from building fires to hunting for food, and communicate with them with the help of your guide.

Next, continue driving through a tropical rainforest and arrive at the Elephant Orphanage Sanctuary (also known as the Kuala Gandah Elephant Sanctuary). This elephant conservation center rescues Asian elephants from areas where their habitats have been destroyed by urbanization and brings them to the sanctuary, where they're placed in an expertly constructed natural environment and nurtured back to health before being released back into the wild.

On your tour of the center, you'll learn all about these ambitious rehabilitation efforts and discover the importance of habitat and environmental preservation. Witness the daily activities of these beautiful animals, including watching the specially trained and committed team of wildlife experts feed them. You'll surely enjoy this amazing and insightful wildlife experience.

At midday, enjoy lunch either packed for you or at a local restaurant. After your tour, you'll be taken back to your hotel with many memories and photos to share.
« All Activities