Bako National Park Full-Day Tour from Kuching
Asia » Malaysia » Sabah and Sarawak » Sarawak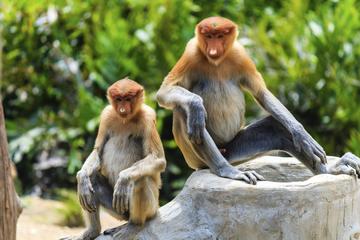 (4.5)
Duration: 6 hours 30 minutes
Departs: Kuching, Sarawak
Price from USD 108.00
Book Now
Bako National Park is an ideal day trip for nature lovers and eco-minded adventurers! Bako National Park known for its extraordinary variety and contrast in its natural scenery, habitats, plant life, and its wildlife. Be thrilled at the wide range of vegetation including the varieties of pitcher plants and wild orchids. See Bako's famous resident, the Proboscis monkeys, wild boar, monitor lizards and hundreds of bird species.
Bako National Park is only reachable by a 20-minute longboat ride from Kampung Bako. Travel one-hour from your Kuching hotel by car plus longboat to Baku National Park, home to seven distinct rainforest ecosystems giving it a remarkable diversity of animal and plant life. Constant erosion over millions of years had turned Bako into a picturesque coastline of steep cliffs, rocky headlands, and many stretches of sandy bays.

Bako's most famous residents are the bizarre Proboscis monkeys, and it is also home to silvered langurs (leaf monkeys), long-tailed macaque monkeys, wild boar, flying squirrels and monitor lizards as well as hundreds of different bird species. Fascinating plant life includes mangroves, strangling figs, carnivorous pitcher plants and symbiotic ant plants.

Unique geological features mark the coastline, including the famous Sea Stack, whilst well-marked trails lead to rugged jungle-covered hilltops and secluded beaches. A packed lunch is included.
« All Activities