4-Day Taman Negara Adventure From Kuala Lumpur
Asia » Malaysia » Central Region » Kuala Lumpur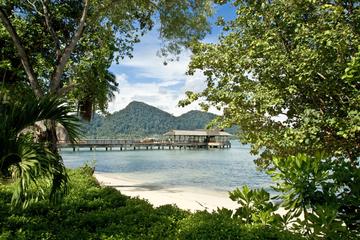 Duration: 4 days
Departs: Kuala Lumpur, Malaysia
Price from USD 1286.66
Book Now
Tap into your inner adventurer as you visit Malaysia's Taman Negara rainforest and national park on this four-day, three-night excursion from Kuala Lumpur. The adventures begin right from the start, when you arrive the Mutiara Taman Negara Resort by canoe! Included outdoor activities range from jungle walks to braving the river rapids. Enjoy Mother Nature in all her glory, whether you are fishing at the nearby Lata Berkoh River or hiking up Teresek Hill. Discover aboriginal life on a visit to a native settlement, and even play the blowpipes! This is an exhilarating way to experience the wild beauty of Taman Negara.
Day 1 (D)
Your trip starts with a three-hour drive from Kuala Lumpur to the river bank at Kuala Tembeling. Here, board a motor canoe for the two-hour ride to your resort. Enjoy the sights and sounds of the rainforest as you cruise along the river. Once settled in, join expert resort guides for a night walk through the rainforest. Try to spot a few creepy crawlies hiding in the dark!
Today is activity day around Taman Negara – choose from a variety of outdoor experiences that will bring you closer to nature.
Take a canoe upstream to Lata Berkoh, where you can go fishing – there are an estimated 300 species of fish in the river! Tackle the longest suspension bridge in Malaysia – more than 1,700 feet (500 meters) – on the canopy walk. Hike up Teresek Hill to Mount Tahan, where you'll be rewarded with breathtaking views of the park. Go swimming at the Lubok Simpon water hole. Or join park guides on an 'Animal Vigil' in a tree house to look for wildlife.
Day 3 (B,L,D)
Connect with aboriginals on a visit to the Orang Asli settlement. Learn about the native culture from local residents and discover their semi-traditional way of life, from playing the blowpipes and hunting with bows and arrows to using medicinal plants and building shelters with bamboo, wood and palm leaves.
Later in the day, put on your lifejacket for a thrilling river rapids experience to Kuala Trenggan. As you ride along the river on a wooden boat accompanied by experienced boatmen, you'll shoot through the many rapids and become quite drenched!
Day 4 (B)
Breakfast ends your Taman Negara experience. You will be taken by boat and coach back to Kuala Lumpur, where you can reminisce about your amazing, one-of-a-kind adventure!
« All Activities