2-Day Taman Negara National Park Adventure and Kuala Gandah Elephant Sanctuary Tour
Asia » Malaysia » Federal Territory of Kuala Lumpur » Kuala Lumpur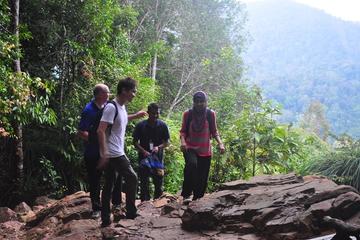 Duration: 2 days
Departs: Kuala Lumpur, Malaysia
Price from USD 399.00
Book Now
Join this 2-day tour for an experience of a lifetime! Enjoy an exciting tour to Taman Negara National Park and the Kuala Gandah Elephant Sanctuary.
Let your worries wash away as you delight in a range of activities such as Taman Negara Canopy Walk, Rapid Shooting to Trenggan, and of course Elephant Sanctuary Tours.

Day 1
Leave Kuala Lumpur early at 6:00am before embarking on the journey to Kuala Tahan. Enjoy passing through the Kuala Lumpur Countryside and entering the scenic Karak Highway covered by the green jungle and hill on the left and right.
Arrive into Kuala Tahan, where you will be staying in the Kampung House. Proceed to Tea Time at Floating Restaurant by the riverside. Then take water taxi to cross to Taman Negara, start trekking to Teresek Hill to view the highest Mount of Peninsula, Gunung Tahan.
After this you will proceed to Canopy Walk, the 500+ meters long hanging bridge build linking from trees to trees for the purpose of studying nature and animals by Malaysia Nature Society and Government effort.
Enjoy lunch at Riverside Floating Restaurant before Rapid Shooting to Kuala Trenggan, be prepared to get wet. Stop by at Orang Asli Kampung to learn blowpipe and fire starting skill the primitive way. Bring along some titbit for the Orang Asli Children.
Finish off the day with an evening dinner and night Jungle Walk.

Day 2
Enjoy a nice breakfast before taking some time to relax and immerse yourself in kampong life. Depart Kuala Tahan at 10:00am and head off to Lanchang Town.
Today you will taste local fruits along the road and enjoy a picnic lunch.
Visit Kuala Gandah Elephant Sanctuary. Kuala Gandah Elephant Sanctuary was set up by Malaysia Nature Society body with Malaysia Government support to rescue and rehabilitate displace and orphanage Elephant. Once they are tamed and matured enough they will be released back into the wild. Take a visit to the Elephant Museum and witness Elephant Feeding and bathing.
We will depart for Kuala Lumpur in the afternoon. Along the way is another famous venue stop, the Batu Caves with its 272 steps up to Limestone Caves.
This tour will test your stamina but you'll be rewarded with amazing experiences and lifelong memories.
« All Activities