2-Day Birdwatching Tour from Langkawi
Asia » Malaysia » Northern Region » Langkawi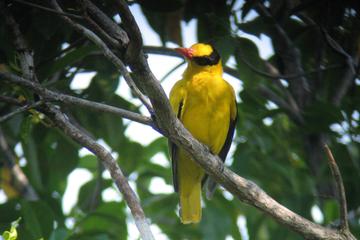 Duration: 13 hours
Departs: Langkawi, Malaysia
Price from USD 270.05
Book Now
Langkawi is home to approximately 226 species of birds, of which about one third are migrants. These migrants winter here between the months of September and April. This tour is suitable for both the serious birder and the birding enthusiast.
Day 1 – Session 1 pick up time 7.30am
Itinerary: Rainforest Birds and Mangrove Forest Birds
The open corridor between tracks of rainforest is best for observing these birds. Among the birds we may see are Flower Peckers, Hill Mynas, Dollarbirds, Green Pigeons, Drongos, Tailorbirds, Babblers, Bulbuls, Sunbirds, Eagles, Woodpeckers and Oriental-pied Hornbils

Our next destination takes us to a mangrove forest to search out Brown-winged Kingfishers, Collared Kingfishers, Black-capped Kingfishers, White-bellied Sea Eagles, Bhraminy Kites, Common Sandpipers and Little Herons. Return to hotel at 11.30am

DAY 1 – Session 2 pick up at 3.30pm
Itinerary: Mountain Birds and wetland birds
A short drive to a local village pond that is frequented by Lesser Whistling-Ducks, Little Egrets, Little Herons, Moorhens, Little Grebes, Pond Herons, Needle-tailed Swifts and Striated Swallows.

We drive to the highest peak in Langkawi to see the Great Hornbills and Wreathed Hornbills. These amazing birds will be the highlight of the trip. The Great Hornbills, measures at 1.3meters (4 feet) from tip of beak to tip of tail, are the largest birds in Langkawi. Return to hotel at 8.00pm

DAY 2 – Session 1 pick up at 7.30am
Itinerary: Scrubland, Disturbed Forest, Mudflats and Plantations Birds.
Depending on the tide, we might start at the mudflat area where we get to see Pacific Golden Plovers, Sand Martins, Sand Pipers and Artic Warblers. We then continue on to scrubland rainforest in search of Black-hooded Orioles and continue on to plantations in the hope of seeing Chestnut-breasted Malkohas and Blue-wing Pittas. Return to hotel at 11.30am

DAY 2 – SESSION 2: PICK UP TIME: 3.30PM
Itinerary: Paddy field Birds
We make our way to the paddy fields in search of birds associated with this habitat. We may get to see Sandpipers, Plovers, Lapwings, Pond Herons, Egrets, Bitterns, White-throated Kingfishers, Peaceful Doves, Spotted Doves and Plain-backed Sparrows. Also any other birds that we have not seen yet. Return to hotel at 8.00pm.
« All Activities